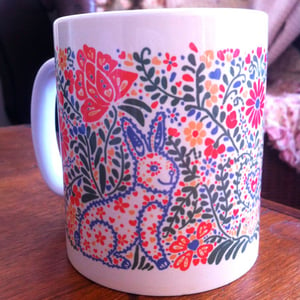 £

10.00
A lovely ceramic mug made in Britain, printed with a colourful design of bunnies in a garden, inspired by embroideries and folk art.
This mug brings happy thoughts of spring time in to your home all year round - whenever you want to think of bunnies hopping about in the grass!
Designed in London with diverse inspiration from British nature and Mexican embroideries. The design goes around the mug, so both sides have a little rabbit looking back at you.
This ceramic mug is microwave and dishwasher safe, approximately 9cm high with a large handle.