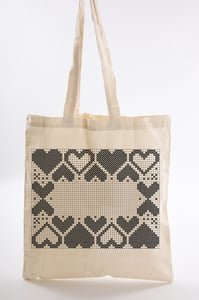 £

12.00
This tote bag with a cross stitch heart frame has been designed so you can add your own hand made creativity and make it unique.
The heart border in the shape of a frame has been inspired by vintage cross stitch samplers. It can be cross stitched using embroidery thread colours of your choice. There is a special area in the middle of the design where you can add your own message or personal initials. It would make an ideal gift for a craft lover or you could stitch it especially for someone. It could also make a good alternative to a gift bag.
Each bag comes with a mini kit which includes a postcard with cross stitch instructions, two different colours of embroidery thread and a needle. The bag looks good just with the screen print so you can add as many or as few cross stitches as you want. You have the option to choose both embroidery thread colours.
The bag is made from 100% eco cotton and hand screen printed in London using environmentally friendly printing inks.
The bag measures 38 x 43 cm with long handles, approx 100g in weight. The instruction postcard is A6 size and the length of each embroidery thread is 8 metres.